Forensic Genetics and Massively Parallel Sequencing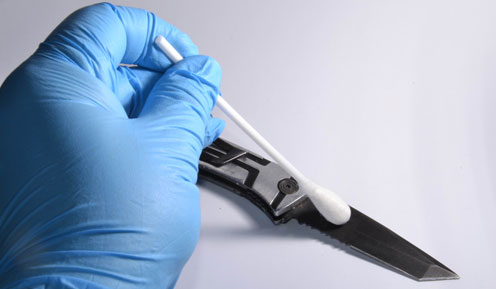 This summer, you have the chance of receiving a comprehensive insight into forensic genetics and a broad introduction to massively parallel sequencing (MPS) work including data analysis. Join our summer course and learn more about the fascinating work in forensic genetics, MPS, and get hands-on experience with data analysis within MPS.
The course focuses on relevant forensic topics such as:
Crime scene investigation and trace samples
DNA profiling and weight of the evidence
MPS of forensic genetic markers (SNPs, STRs, and mitochondria)
Molecular autopsy (sudden cardiac death)
Paternity and relationship testing
Future forensic investigation (prediction of age and externally visible characteristics)
After completing this course, you will be able to understand, analyse, and interpret forensic genetic data. You will be able to understand the latest research and advantages with forensic genetics and MPS work and data analysis. Finally, you will be able to work with command line and understand the common way of analysing MPS data.
| | |
| --- | --- |
| Preparation/self-study | 24 - 28 June 2019 |
| On-campus module | 5 - 16 August 2019 |
| Exam | 16 August 2019 |
Credit points: 5 ECTS
Who can participate?
You can participate, if you have completed a bachelor's degree within:
Human biology and immunology
biochemistry
bioinformatics
biology
biotechnology
pharmaceutics
exercise and sports sciences
medicine
or a corresponding degree within the field of health sciences or natural sciences
You are required to have a basic knowledge of genetics.
How is the course structured?
How do I apply?
You apply through the link in the top right hand side of this webpage.
The online application form will be available on this web page mid-January 2019. The application deadline is 1 April 2019.
How much is the tuition fee?
You are exempted from payment, if:
You are enrolled at a Danish university and the course is part of your master's programme. Danish students must provide a pre-approval of credit transfer from their home institution upon application.
You are a student at the Faculty of Health and Medical Sciences, UCPH, and the course has already been approved for your study programme. Please study the overview of study programmes, where preapproval of summer course is not required.
You are an exchange student and attend the course as part of your Erasmus+ exchange semester (min. 3 months stay).
You are an exchange student nominated through Nordplus express or Nordlys.
Fee-paying participants:
All other participants (students, working professionals, etc.) must pay tuition fee according to the information below.
| | |
| --- | --- |
| EU/EEA citizens | 5,000 DKK |
| Non-EU/EEA citizens | 9,000 DKK |
The fee covers participation in the course. It does not cover course materials, travel, accommodation and living expenses during the course.
Full payment of course fees must be transferred in May. Payment details will be forwarded upon acceptance.
Refund policy
You can only get a refund of your tuition fee, if you cancel at least two month prior to the beginning of the course including e-learning modules.
Can I apply for a scholarship?
Unfortunately, the University of Copenhagen does not offer any scholarships or tuition fee reductions.
Contact information
If you have questions about the course content, please write to ForensicGeneticsCourse@sund.ku.dk.
Course responsible: Niels Morling, Jeppe Dyrberg Andersen and Marie-Louise Kampmann
Practicalities
Accommodation: Please note that the summer courses are non-residential. Participants are responsible for finding and funding accommodation during their stay in Copenhagen.
You can use different online portals to search for accommodation, such as:
Copenhagen has an international airport, and the city centre can be reached within 30 minutes. If you want additional information read Arriving in Copenhagen.
Please study our websites for more information about Faculty of Health and Medical Sciences and the University of Copenhagen.
FAQ