NorDoc Summer School 2021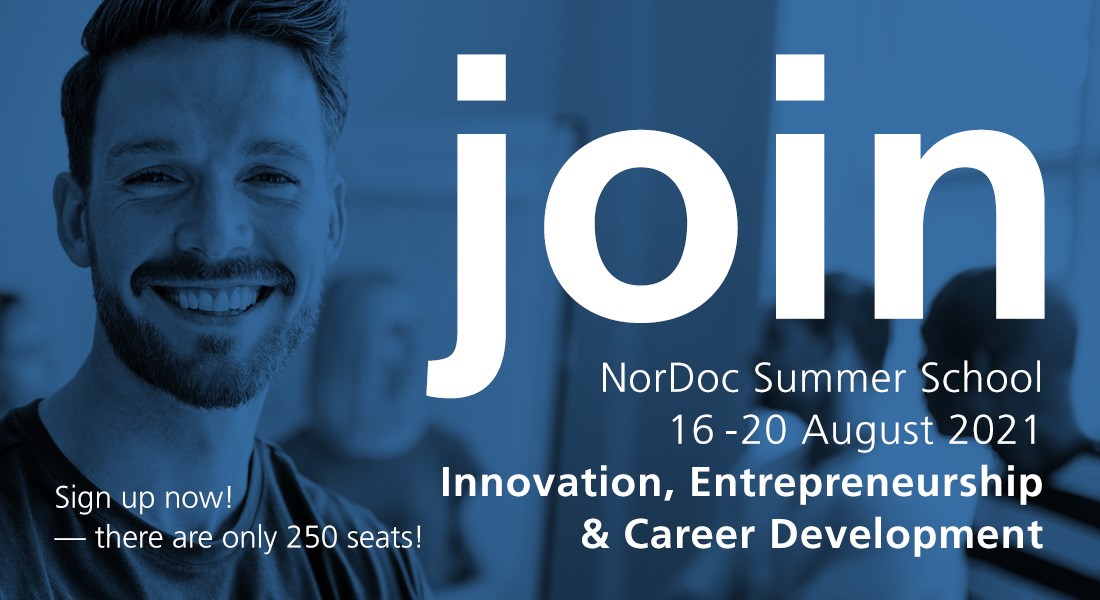 The NorDoc Summer School takes place in Copenhagen on 16-20 August 2021 and this year the topic is: 
Entrepreneurship, Innovation and Career Development 
The annual NorDoc Summer School brings together PhD students from the Nordic countries for a week of interaction and discussions. The summer School is open to PhD students, faculty and administrators.
Sign up now! There are only 250 seats available for the conference.

We have invited excellent speakers from the Nordic countries and hope to inspire you and give you new insight into some of the current opportunities in the Nordic countries. There will be presentations and panel debates as well as breakout sessions and workshops, where you get to work with experts and PhD students on the topics of your choice. 
You can participate in several full day PhD courses in innovation and transferrable skills - and you also get a chance to visit the industry in or around Copenhagen for a full day and learn how start-ups, small and big companies work with innovation. Last, but not least, the summer school ends with a conference.  
NB: In case the COVID-19 pandemic prevents us from having the NorDoc Summer School physically in Copenhagen, we will transform as much of it as possible into an online format – including the conference part. So do not hesitate to sign up now. The payment of the NorDoc Summer School fee of 100 EUR per participant will not be charged before June 2021 and only in case the summer school is going to take place physically in Copenhagen.
NorDoc is a network for graduate schools in health and medical sciences in the Nordic countries.
Panum Institute is situated in the Nørrebro district of Copenhagen. 
Buses
Several buses stop close to Panum Institute, e.g. bus 6A which connects with Nørreport station and bus 1A which connects with Trianglen station and Forum station (Rosenørns Allé).
Metro
The metro line connects the airport to the city center and it connects most of the urban neighborhoods of Copenhagen. 
Learn more about the metro line.
Panum Institute is a 20 minutes walk from Forum metro station, Nørreport station and Trianglen metro station. 
Get an overview of the public transportation
Learn about the public transportation options when in Copenhagen
or plan your trip via Journey Planner (Rejseplanen).
These hostels and hotels can be booked at discounted rates (limited availability):
Urban Camper
Lygten 2C
2400 Copenhagen N
Indoor four-person tents close to Nørrebro metro station. Only female tents are also available.
Use this link for booking before 31 July 2021.
Danhostel Copenhagen City
H.C. Andersens Blvd. 50
1553 Copenhagen
5-star hostel in downtown Copenhagen.
Use the discount code "nordoc2021" when booking on their website. The discount code is valid until 31 July 2021.
Wakeup Copenhagen
Borgergade 9
1300 Copenhagen K

Economy hotel
Use this link for booking before 16 June 2021.
Please make sure to choose the option Copenhagen and then Borgergade 9 for the discount price.
NB: Early booking is advised for all of the above in order to obtain the discounted rates.