Three regular assessments
During the PhD programme, the PhD student must submit three regular assessments. The assessments provides an opportunity for the PhD student to discuss and reflect on the PhD project and get feedback from the supervisors.
The dates for the regular assessments are stated under your PhD registrations on KUnet.
Fill in a regular assessment form
You need your KU-login to complete the form.
If you do not know your KU-login or forgot your password, please look for help here.
All PhD students enrolled at the Graduate School have a KU user name and login.
Written assessment report
One week before the assessment meeting, the PhD student must submit a written report to the principal supervisor, co-supervisors and external assessor (1-2 pages). The report must include:
Background and rationale for the project
A description of the results to date and a preliminary interpretation of them
A description of any deficiencies and bottlenecks in the project
Proposals for any alterations to the PhD plan
Other issues the student wishes to discuss at the meeting
The written report and the PhD student's presentation form the basis for the assessment.
Oral presentation
The presentation should last 30-45 minutes.
The PhD student presents the background and rationale for the project.
The preliminary results are presented, interpreted and discussed in relation to the overall objectives of the project.
The meeting takes stock of any deficiencies and bottlenecks and plans for the remainder of the PhD programme by describing the adjustments that are expected in the PhD plan.
Assessment meeting
The PhD student and the principal supervisor are responsible for setting up the assessment meeting. All supervisors must attend the assessment. If an external assessor has been assigned, he or she must also attend. Other interested parties may attend if the PhD student and supervisors agree.
The meeting is expected to last at least one hour, and half of the total meeting time must be reserved for questions and discussions.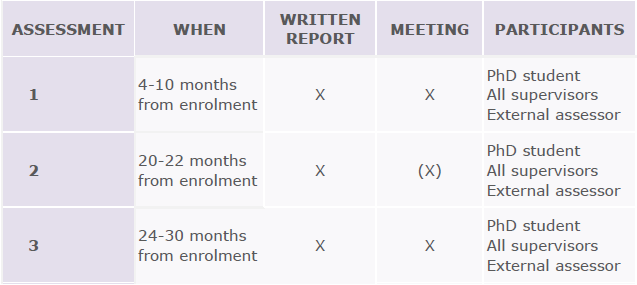 Assessment 1+3: A meeting with your supervisors is mandatory.
Assessment 2: A meeting is optional but recommended.
Unsatisfactory regular assessment
In case the PhD programme is not progressing satisfactorily, the supervisors must write a statement describing the reason why.
The PhD student has two weeks to comment on the statement.
Subsequently, the supervisors will prepare a rectification plan in order to address the shortcomings.
The Graduate School will formally initiate the three-month rectification period. The PhD student will only be given this opportunity once.
After the rectification period the supervisors prepare a new regular assessment.
If the new assessment is satisfactorily the PhD study continues. If not, the enrolment at the Graduate School will terminate at the end of the month.
The PhD student can appeal the decision by sending a complaint to the Dean within two weeks.
If problems in terms of cooperation arise, please contact Head of the Graduate School, Jørn Wulff Helge.