9 November 2023
Innovative UCPH project aims at developing a spinout from launch
INNOVATION
BioInnovation Institute announces funding for the new UCPH project 'Neurophase' which aims to build a viable company. The project will be led by UCPH Professor Kristian Strømgaard whose lab at the University of Copenhagen focuses on peptide and protein engineering with putative therapeutic applications.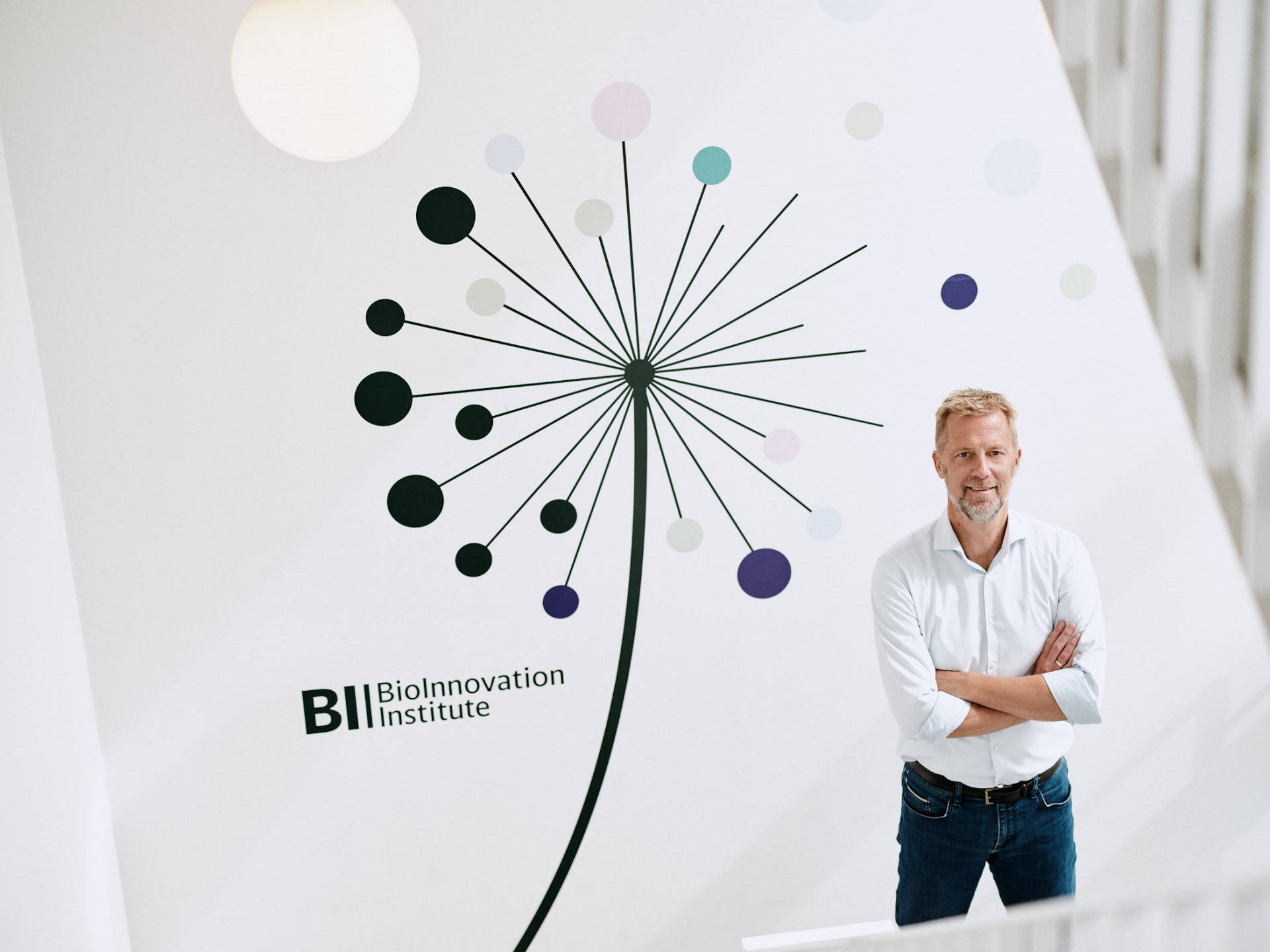 Professor Kristian Strømgaard from the Department of Drug Design and Pharmacology is set to lead the project 'Neurophase', which will focus specifically on signaling proteins in the brain that play a role in various brain disorders and diseases.
Now, the BioInnovation Institute (BII) grants the Neurophase project with up to EUR €1 million per year for period of up to three years. BII will also support the project with business development expertise, intellectual property support, investor network access, and wet lab and office infrastructure facilitating inter-project cross-fertilization and project acceleration.
The funding comes from BII's Bio Studio-program with the ambition to build and run a leading life science company creation facility in Europe. Besides the support from BII to build a viable company, Kristian Strømgaard has received a DKK 20M grant from the Lundbeck Foundation to explore and strengthen the project's scientific foundation.
"Our goal is to explore whether the formation of biomolecular condensates by liquid-liquid phase separation can lead to novel concepts to treat brain diseases. By being part of BII's Bio Studio program, we can focus on working towards spinning out a company from the beginning, which is a major advantage and something I'm very excited about," says Kristian Strømgaard and adds:
"We are tapping into a 'red hot' field, as biomolecular condensates have gained much attention in academia, biotech, and the pharmaceutical industry during the last few years. However, there is no doubt that it remains vital to further investigate the structure and function of specific condensates to utilize them for therapeutic purposes."
As a unique value proposition of the Bio Studio program, intellectual property generated during the project period will remain at the University of Copenhagen.
Great entrepreneurial experience
Kristian Strømgaard's lab at the University of Copenhagen (UCPH) focuses on peptide and protein engineering with putative therapeutic applications. Developing and bringing peptide-based drugs to a development stage is not new for Strømgaard and his research group. In 2012, he founded the spin-out company Avilex Pharma and recently brought its lead compound AVLX-144 successfully through phase 1 clinical trials.
BII is thrilled to have attracted such entrepreneurial capacity to the Bio Studio program.
"The team's expertise in peptide drug discovery will further fortify BII's positioning as the place to be for developing peptides into efficient therapies. The Neurophase project considers biomolecular condensates as a new lens to view and target brain diseases to provide treatments to patients with no cure or hope," says Louise Clemmensen, Director of Science Strategy at BII.
Trine Winterø, Vice-Dean for Innovation and External Relations at the Faculty of Health and Medical Sciences at the University of Copenhagen, is very pleased with Neurophase now being part of the BII Bio Studio Program.
"This is fantastic and good news both for Kristian Strømgaard, his team, BII and UCPH: Kristian is one of UCPH's super-entrepreneurs with both a long and solid academic career as well as a tremendous entrepreneurial drive and experience. We are very happy that the Neurophase project is now part of the BII Bio Studio Program," says Trine Winterø.
Topics