30 March 2023
SUND receives three prestigious Advanced Grants for innovative projects
Grants
Three researchers at SUND have been awarded with the highly prestigious European Research Council's Advanced Grant of DKK 18 million for innovative research over the next five years.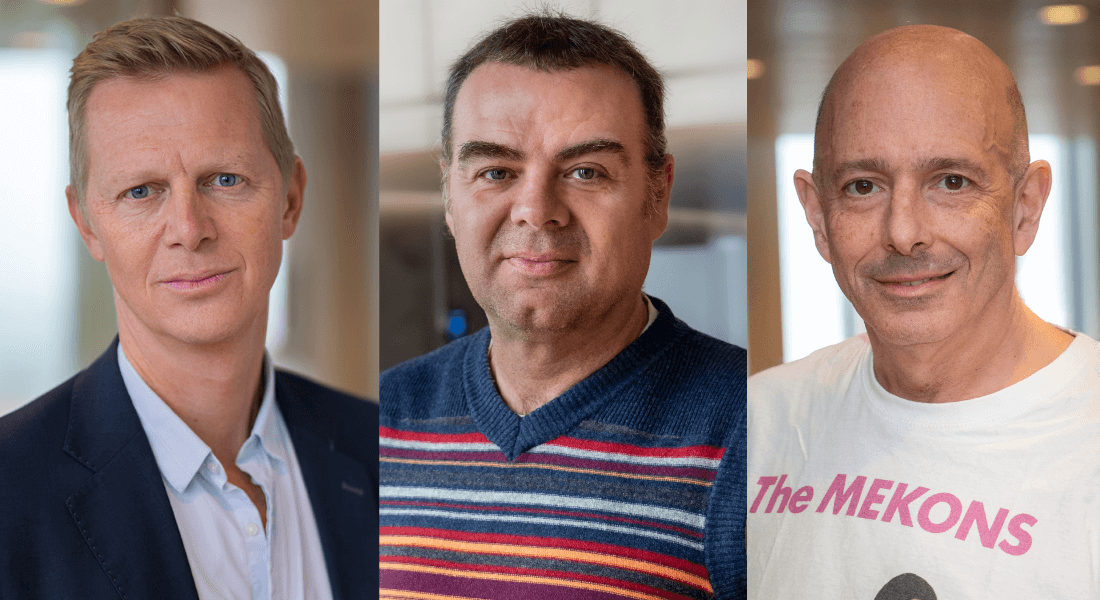 Professor Klaus Lindgaard Høyer, Professor Guillermo Montoya and Professor Joshua Mark Brickman at the Faculty of Health and Medical Sciences at the University of Copenhagen have each been awarded with the prestigious Advanced Grant from the European Research Council (ERC).
They each receive up to EUR 2.5 million for a period of five years. The Advanced Grant awards well-established researchers who have achieved significant research results in the past 10 years. The grant goes to researchers who wish to work with a ground-breaking and risky project over a longer period.
Bente Merete Stallknecht, Dean at the Faculty of Health of Health and Medical Sciences, highlights the recognition of the three outstanding researchers and their projects.
"The ERC grants are some of the most prestigious and most competitive grants one can receive. We are contesting against the very best researchers in Europe, and so we are proud to receive not just one but three Advanced Grants at our faculty. It is a fantastic recognition of all three leading researchers and of the important research being conducted here at the Faculty of Health and Medical Sciences," she says.
What is the European Research Council
The funding will enable these researchers to explore their most innovative and ambitious ideas. In total, the ERC has awarded 218 grants to research leaders across Europe, spanning across 20 countries and representing 27 nationalities from all over the world.
In addition to strengthening Europe's knowledge base, the grants expect to create more than 2,000 jobs for postdoctoral fellows, PhD students, and other staff at the host institutions. Past recipients have included Nobel laureates and other leading scientists who have gone on to make major contributions to their respective fields.
Read about the projects below.
Professor Klaus Lindgaard Høyer, Department of Public Health
Title: DataSpace: Making Sense of Health in an Age of Cross-Border Data Infrastructures
A lot of money and resources are put into data exchange across national boundaries, but not nearly as much into questioning how it shapes health care systems or how populations perceive these exchanges.
Healthcare is increasingly datafied and a wide range of actors want to be able to exchange and access health data across national boundaries. Actors such as patients, clinicians, administrators, policymakers and industry. With the DataSpace project we therefore explore and conceptualize how people experience themselves and the world around them with and through data. We take the term 'space', empirically present in the European Health Data Space initiative, and reinvigorate it theoretically to establish a vocabulary fitted for understanding data-intensive health environments. This theoretical approach moves beyond problematic distinctions between the virtual and the real and provides a new understanding of how patients, clinicians, researchers, administrators, and industry shape healthcare with and through data.
The grant finances an important basic research project that would otherwise be challenging to fund. At the same time it highlights why researchers with backgrounds in humanities and social science are necessary to the goals of Faculty of Health and Medical Sciences – and how this Faculty in turn is able to nurture social science of the highest quality standards by facilitating cross-disciplinary and curiosity-driven research environments.
Professor Guillermo Montoya, Novo Nordisk Foundation Center for Protein Research
Title: INTETOOLS: Repurposing of CAST Systems as Next-Generation Tools for Genome Engineering of Mammalian Cells
Our project aims to develop new tools that will propel the current single-gene editing approaches to genome engineering by precisely inserting long segments of DNA. This will allow the modification of gene modules including DNA regulatory regions. This technology can be used in biomedical applications and to modify microorganisms involved in biotechnological processes or to improve production in higher organisms by modifying plants or animals.
The current systems can address different types of editing including targeting some human diseases. However, the current tools that we use can introduce very few instructions (short segments of DNA or small modifications), thus limiting the possibilities of genome manipulation. 
Given the rather strict selection procedure, the ERC Advanced Grant is the most prestigious research grant in Europe. Therefore, it is a great honour to receive it and a big motivation to continue my research.
Professor Joshua Mark Brickman, Novo Nordisk Foundation Center for Stem Cell Medicine, reNEW
Title: SENCE: Signaling decoded in ENhanCEr states – a molecular basis for plasticity in development and differentiation
In this research project, we ask three questions. We ask how the relay system finds the right transcription factors to work with and turn the right genes on or off.  We then exploit our capacity to turn signaling on to understand how transcription factors act from enhancer, how they protect past and future cell identities, and how enhancers act with the relay system/transcription factors to activate the correct gene from far away.
Finally we ask how transcription factors support plasticity in early development and differentiation. Based on our discovery of what transcription factors do in stem cells, we have hypothesised that the persistence of a select set of them endows cells with the ability to change their mind and hence regenerate missing tissue. We want to understand how they do this.
For several years we have been pursuing this unorthodox view of how genes are turned on and off. This grant feels like a validation of these ideas. Moreover, in a climate where fundamental research without a translational angle is getting very difficult to support, the ERC enables me to follow my heart and explore the unknown, simply because we still don't understand how cells process and use the information in their genomes.
Topics