16 December 2022
Now we understand better how cell division works. That puts us a step closer to devising more effective cancer therapies
Cell division
How does a cell know when to divide? Researchers have found the answer, and it may prove significant to future cancer therapy.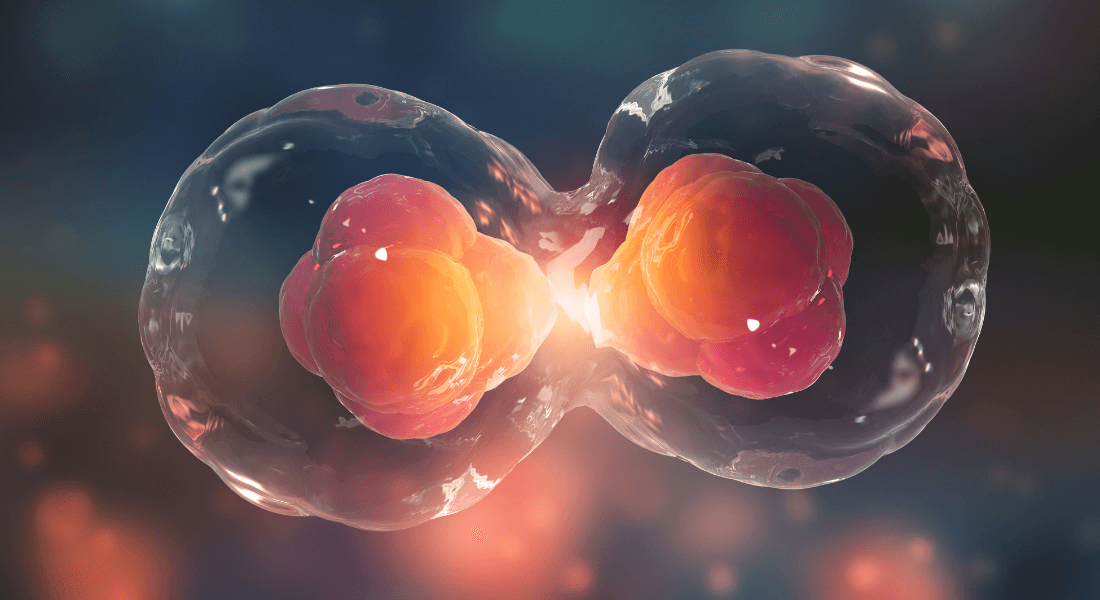 Think back to when you got out of bed this morning. You brushed your teeth, you had breakfast, which you chewed carefully to make sure you did not choke, and you checked your clock to avoid being late for work.
Our everyday life is divided into thousands of 'checkpoints' that we rarely think about. Now researchers from the University of Copenhagen have learned that our cells are just as thorough. Only their checkpoints make sure they are ready to divide.
"Cells must also use checkpoints, which organise their life (or cell cycle) in several phases that must occur in a definite order. Each phase has to be completed before committing to the next one - like making sure there are no cars coming before stepping on the road - to avoid deadly consequences," Associate Professor at the Department of Cellular and Molecular Medicine Luis Toledo explains.
The essential goal in the life of a cell is dividing into two daughter cells. But before cells divide they need to make sure their DNA has been fully copied. Otherwise they risk suffering lethal damage to their chromosomes. Now a team of researchers have discovered a new checkpoint that makes sure cells divide only when they are ready to do so.
"This new knowledge adds a piece to the understanding of how cells grow and divide, and that can have future implications of our understanding of cancer and how we may treat it," says Luis Toledo.
A sharper weapon against cancer
The researchers hope the results of the new study can help them find a way to fight cancer cells more effectively and more accurately.
Right now, chemotherapy is the most common treatment for cancer. But in its attempt to kill the cancer cells, chemotherapy also targets healthy cells, and it can therefore be a very harmful form of treatment with lots of side effects.
"Understanding basic cell biology is really a way to get to identify the molecular mechanisms that makes cells more vulnerable. The sharper the weapon, the more effective it will be," Luis Toledo explains.
Cheating cancer cells
Cancer cells are cunning. They are able to spread despite attempts to kill them with chemotherapy and other forms of treatment. But they will have a hard time staying alive and spreading if we are able to prevent them from completing their development correctly. 
Understanding basic cell biology is really a way to get to identify the molecular mechanisms that makes cells more vulnerable
"Cancer cells have many ways to recover and defend themselves from chemotherapy," Luis Toledo says.
"But cancer cells rely on this checkpoint to divide and spread. They need to copy their DNA and be sure that they have finished before committing to divide. If you trick the cells into skipping that checkpoint, the consequence for their DNA is irreversible," adds Gijs Zonderland, first author in the article.
In other words, if the researchers are able to trick the cells into skipping this newly discovered checkpoint, cancer cells will not be able to survive when attempting to divide. And even though there is still a lot the researchers do not know about these mechanisms, this may be realisable in the near future. 
"These days things are moving fast. Much faster than in the past. If we found a way to inactivate this checkpoint with a molecule, we could be talking about 10-15 years to bring it to clinical trials and patients" says Luis Toledo.
The study "The TRESLIN-MTBP complex couples completion of DNA replication with S/G2 transition", has been published in Molecular Cell with the support of the European Research Council and the Danish National Research Foundation.
Contact:
Associate Professor Luis Toledo
ltoledo@sund.ku.dk
Postdoc Gijs Zonderland
gijsz@sund.ku.dk
Journalist and Press Officer Sascha Kael Rasmussen
sascha.kael.rasmussen@sund.ku.dk
+45 93 56 51 68
Topics