23 November 2022
Three ERC Starting Grants to SUND researchers
Grants
Researchers Lea Haarup Gregersen, Hernan Eduardo Morales Villegas and Victor Moreno Mayar each receives a Starting Grant from the European Research Council (ERC). They intend to use it to establish new research groups to study oxidative stress, genome erosion and the population of Indigenous Americans.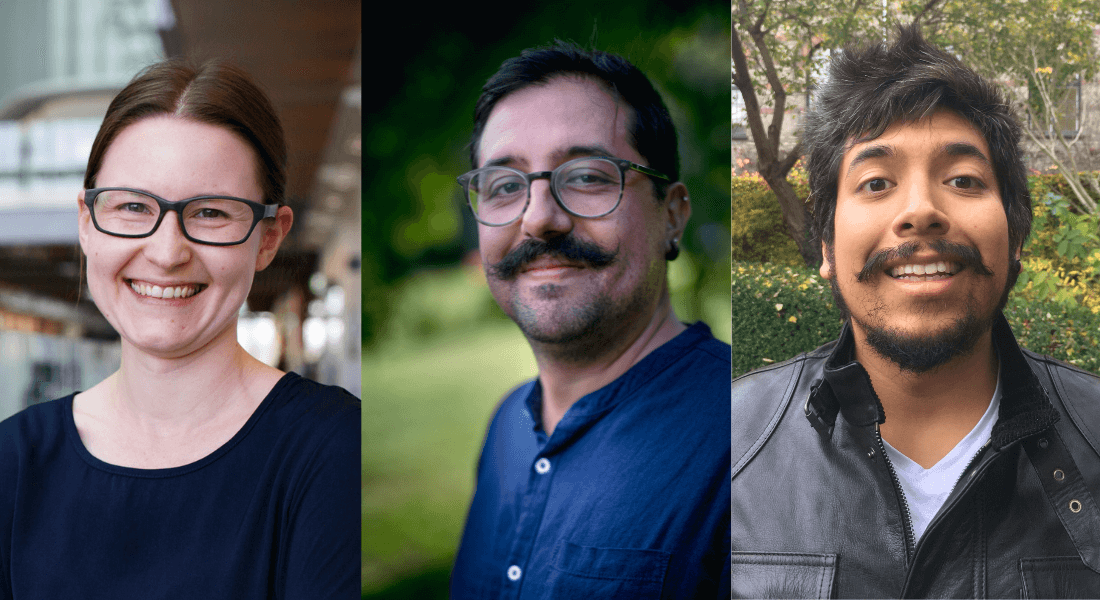 Each year the European Research Council (ERC) distributes the so-called Starting Grants to researchers who have two-seven years' experience after completing their PhD. The researchers receive EUR 1.5 million over a period of five years for establishing a research group on a ground-breaking research idea.
In total, 14 Starting Grants have been granted to researchers at Danish universities. And on the list were eight UCPH researchers. Five from SCIENCE and three researchers from SUND have received the much-coveted grant.
Congratulations to Lea Haarup Gregersen at ICMM, Hernan Eduardo Morales Villegas and Victor Moreno Mayar at Globe Institute. Read about their SUND research projects below.
Prorector at the University of Copenhagen David Dreyer Lassen is proud of the fine result.
"A big congratulations to the eight researchers who now have an amazing platform to develop their ideas and talent. The European Research Council's grants are one of the clearest markers for the research excellence for European universities. That we can attract so many speaks to the academic level in our research environments. "
Over the years, UCPH has been one of the most successful universities in obtaining funding from EU's major framework programmes. The eight Starting Grants come only a month after researchers from the UCPH were given a share in two of the European Research Council's Synergy Grants – grants that fund research collaborations across institutions and disciplines in order to address complex research-related issues.
The three SUND projects
Associate Professor Lea Haarup Gregersen (ICMM)
"First and foremost, it is a huge recognition and fantastic opportunity that allows me and my group to focus on this ambitious research program for the next 5 years."
On the research project, she says:
"We study the molecular mechanism within our cells responsible for decoding information stored in our genes. Surprisingly, we have found that this process can be rapidly paused and restarted in response to drugs that lead to a form of stress called oxidative stress. However, it is currently not known how this happens or why. With this project we aim to uncover the molecular mechanisms responsible, factors involved and the consequences when the response is not working properly. This will be relevant for diseases in which oxidative stress has been implicated, such as neurological disorders and cancer."
Postdoc Hernan Eduardo Morales Villegas (Globe Insitute)
"The ERC Starting Grant will allow me to develop a high risk–high gain project, and take ambitious steps towards developing a robust scientific career that has impact in both the academia and the society at large."
The research project focuses on a so-called genomic erosion in wild species, he explains.
 "Addressing the loss of global biodiversity is one of the most critical societal challenges of our time. ERODE will uncover how wild species lose the genetic diversity necessary for their long-term survival and future adaptation, a process known as genomic erosion. ERODE will build one of the largest genetic-fitness datasets for endangered species in the world. We will combine it with powerful computer models to develop effective tools for biodiversity conservation."
Victor Moreno Mayar (Globe Institute)
"The Starting Grant is a great opportunity to pursue my research interests independently and build a team around them. I hope this grant becomes the first step to getting established as an independent researcher at the University of Copenhagen."
His project will study the population history of Indigenous Americans.
 "We will use DNA preserved in ancient chewed plant fibres—called quids—to study the population history of Indigenous Americans. But interestingly enough, these quids also store the DNA from the plants and animals that the chewer was eating, the chewer's oral bacteria and even some pathogens. So this project will help us understand how population genetic history, culture and health shaped each other through time."
Contact
Press Officer Søren Thiesen
+45 28 75 29 34
s.thiesen@sund.ku.dk
Topics