12 October 2022
Parents' weight status plays a key role in whether or not their children become overweight and obese
Weight
In Denmark, more and more people suffer from overweight and obesity. A new study suggests that children with parents with obesity begin to develop overweight and obesity at earlier ages than children with parents with normal-weight. This may result in an increase in serious diseases.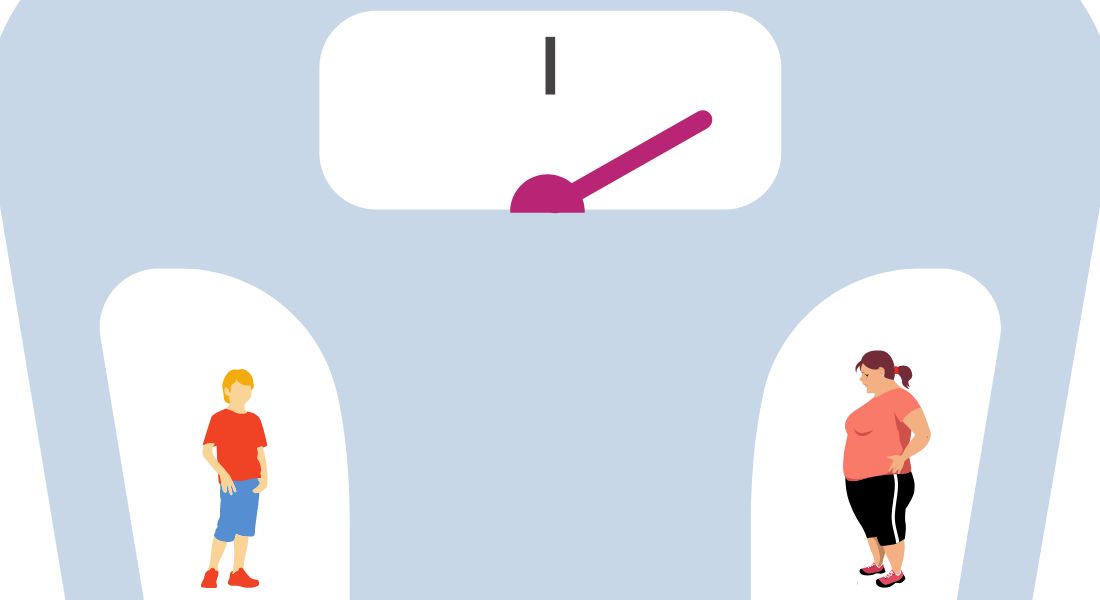 Since 2010, the number of Danes suffering from obesity has almost doubled to 18 per cent of the adult population. Previously, we did not know at which stage in life the risk of overweight was highest, but a new study from the University of Copenhagen has changed that. Based on a dataset including more than 3,000 American children and their families, the researchers behind the study have identified the role of parents' weight status for the risk of developing overweight and the stages in life where we are most vulnerable to weight gain.
"Our study shows that the age at which children become overweight to a large extent is determined by their parents' weight status," says Associate Professor Jannie Nielsen from the Department of Public Health at the University of Copenhagen, who is one of the researchers behind the study.
More specifically, the study shows that children whose parents have obesity on average have developed overweight at age 6 years, while children whose parents are normal weight do not become overweight until age 25.
The American dataset includes families with parents with normal-weight, overweight or obesity.  
In Denmark, we do not have access to the same kind of data, and even though the amount of people with obesity is much lower in Denmark than in the US, the number of Danes with obesity is increasing. Therefore, the American dataset can play a key role in helping us understand the relationship between the weight of parents and their children, and at which stage in life prevention measures can make a difference. Because according to Jannie Nielsen, once you have developed overweight or obesity it is difficult to return to normal weight.
"The prevalence of obesity among adult Danes is increasing. Therefore, more and more children will grow up with parents with obesity. This means that we will see more children with weight problems, and these problems will emerge at an earlier stage in life, potentially increasing the risk of other diseases. In the US, 14 per cent of adults were obese in the early 1990s; today, this is true of 42 per cent. If we want to avoid a similar situation in Denmark, we need to start introducing targeted policies and measures," Jannie Nielsen explains.  
Previous studies agree that obesity increases the risk of diseases such as type 2 diabetes, cardiovascular diseases and some forms of cancer.
"Other studies have shown that this risk is likely to be associated with the number of years a person has obesity during childhood, youth and as a young adult," she says.
"This is a public health issue; we cannot just ignore that"
Jannie Nielsen hopes the study can help prevent unhealthy weight in a lot of children. And even though she does not want to stigmatise families with overweight, she believes it is something we need to talk about.
"I hope the study results do not contribute to the current stigmatisation of people who are overweight, including parents. That is one of the most difficult aspects of my job. There are so many different factors that affect our weight and so many perspectives in the debate on obesity. But this is a public health issue; we cannot just ignore that. And therefore, we need to use these results to support the families and children who have the highest risk of developing overweight and obesity," Jannie Nielsen says and elaborates:
"One thing is the risk of developing chronic diseases; but the musculoskeletal system also suffers. So we cannot choose not to talk about it; it is too big a health problem," Jannie Nielsen says and stresses that most studies indicate that the risk of developing diseases is greatest among people who have obesity.
Everyday life is less demanding
The study also included children whose parent had normal-weight, and the results show that families with weight problems are not the only ones who see an increase in children suffering from overweight. Families in which the parents have normal-weight parents also get more and more children with overweight. 
"At age 30, only half of all children with parents with normal-weight have a healthy weight. In my opinion, this shows that we are dealing with more than just individual factors such as diet and physical activity. If we really want to do something about obesity in Denmark, we should be focussing on the structural elements that cause more and more people to develop unhealthy weight," says Jannie Nielsen.
If we want to avoid a similar situation in Denmark, we need to start introducing targeted policies and measures.
Though the researchers did not look into these structural aspects in the present study, Jannie Nielsen points to a series of everyday life changes that may have contributed to this increase in people suffering from overweight.
"Our everyday life has become increasingly less demanding. We do not have to be particularly active. For example, fewer children cycle to school today," Jannie Nielsen says and adds:
"At the same time, we are constantly tempted to high-energy and highly processed foods and increasingly so. At my local supermarket, for example, sweets, chips and soft drinks are available by the entrance, in several areas of the shop and at the check-out. So even if I did not crave this kind of stuff when I arrived, I certainly did once I reached the check-out. Was it then my choice or the supermarkets to buy candy?"
The study is published in American Journal of Epidemiology.
Contact:
Associate Professor Jannie Nielsen
+ 45 35 33 12 62
jannie.nielsen@sund.ku.dk
Journalist and Press Officer Sascha Kael Rasmussen
+ 45 93 56 51 68
sascha.kael.rasmussen@sund.ku.dk
Topics