17 June 2022
"I realised that my research can have a positive effect on society"
HONOUR
In the dead of night, young Ali Salanti would sneak out to collect water samples at a local farm. The experience convinced him that he wanted to be a scientist. In the course of his 22-year career, he has helped develop vaccines against malaria and COVID-19, and he now focusses on cancer. Today, he receives the preclinical KFJ Award, while Clinical Professor and Chief Physician Mikkel Østergaard receives the clinical KFJ Award.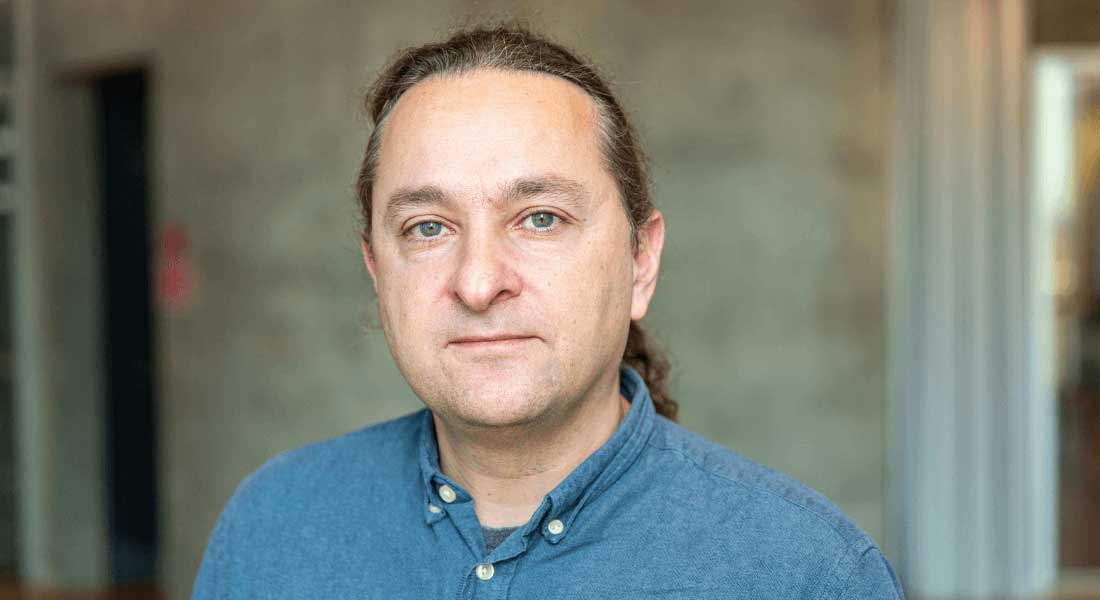 This year, two researchers from the Faculty of Health and Medical Sciences receive the prestigious KFJ Award that is awarded annually by the Kirsten and Freddy Johansen Foundation for unique contributions to i.a. medical science.
The preclinical award goes to Professor Ali Salanti from the Department of Immunology and Microbiology, while the clinical award goes to Mikkel Østergaard, Clinical Professor at the Department of Clinical Medicine and Chief Physician at Rigshospitalet.
With the award comes a cash prize of DKK 1.75 million.
We asked Ali about his career and the people who have helped them become the leading researchers he is today.
What is your research about, and why is it important?
"As a professor of translational medicine I seek to translate basic research into something that can be tested, e.g. a vaccine or cancer therapy. My career is based on malaria research. I have identified the sugar molecule which the malaria parasite has learned to target, causing it to accumulate in the placenta tissue. This discovery has formed the basis of my collaboration with a group of researchers on developing vaccines against malaria and later COVID-19. Now it may also come to form the basis of new types of cancer therapy.
I currently invest all my time in developing a cancer drug based on the malaria sugar molecule. This particular molecule ensures fast growth and thus helps cancer cells spread. I am currently working on two large projects. One studies diagnostic uses of the molecule, while the other focusses on targeting treatment at cancer tumours."
When did you realise that you wanted to be a scientist?
"I realised when I was in upper secondary school. My family and I lived on a farm in Aars, and for my third-year project I chose to focus on waste water treatment. At the time, the so-called reedbed wastewater treatment system had just been introduced. It cleans the water by driving it through an area with lots of plants. All the farmers were using it.
I wanted to measure the amount of nutrients at the inlet and the outlet of the system, respectively, to see if it actually worked. But none of the local farmers would let me do it. Perhaps they were afraid to find that it did not work. Nevertheless, I snuck out in the dead of night and drove 10 kilometres on my moped to collect samples. I did that three times. It turned out the system did not work, and that the farmers were discharging large amounts of nitrogen into the local stream. This was bad news for the water environment, as it causes oxygen levels to deplete, which in turn causes the fish to die.
I showed the results to the city manager and said: 'Look. You help authorise these systems, but you do not keep check on them.' And seeing as I had 'solid' scientific evidence, they had to listen and act. That is when I realised that my research can have a positive effect on society – it is not all textbooks and theory; it can actually make a difference."
When did you realise that you are a successful researcher?
"I have never thought of myself as successful. I have received recognition for my ability to make connections and find solutions, but there is still so much to be done, and sometimes I feel like there is a long way to go.
Perhaps I will feel successful once I have developed a drug you can inject into a cancer patient and see a decisive effect on the individual patient. Curing sick people – I cannot imagine it gets any better than that."
Who has been your greatest source of inspiration as a researcher?
"I have this role model: Thor Theander. He is a professor and a doctor, and he has spent his entire life doing research focussing mainly on severe malaria in children and pregnant women. He is probably one of the most celebrated malaria researchers in the world.
His leadership style has been a great inspiration to me. He is open-minded, extremely inclusive and allows people room to grow. This rubs off on the science – it makes you want to solve challenges, and it paves the way for open scientific discussion, which eventually leads to better research."
What part of your career are you most proud of?
"I am proud of all the talented researchers whom I have helped train – and who now head their own research group or make significant contributions to the industry. But I am also proud of the COVID-19 vaccine. We have come a long way in a short space of time. Right now, we are doing the final tests."
What has been the greatest challenge of your career?
"Balancing the collaboration between the public and private sectors has proven difficult. It is still largely uncharted territory, but it is necessary if you want to develop drugs. You need to watch your step and balance the interests of different stakeholder groups."
What would you say to someone who is thinking about becoming a researcher?
"Do not be afraid to think big and be ready to make mistakes. When you do research and development, you need to be prepared to see most of your tests and hypotheses fail. All researchers are discouraged from time to time, when their tests just do not turn out the way they hoped they would. You need to focus on the small victories and remember to learn from your mistakes."