POSTPONED - PhD course, Innovation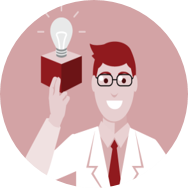 DUE TO THE COVID-19 SITUATION, WE HAVE CHOSEN TO POSTPONE THE COURSE. THE NEW DATES ARE OCTOBER 26 TO OCTOBER 30, 2020 (WEEK 44). 
The course is for PhD students at all levels with a natural interest and couriosity in innovation. The course does not require prior experience with innovation. Students with prior experience can, however, also benefit greatly from the course.
Learning objectives

A student who has met the objectives of the course will be able to:

1. Understand and interpret research with an innovative/commercial potential
2. Demonstrate and define how to go from "idea to market"
3. Understand how to use innovation and business tools to develop, prototype and test solutions
4. Identify and evaluate new research targets and gain insight in industrial research
5. Gain an increased perspective of opportunities and possibilities aside from the "regular" academic

Content
Lead-molecule selection, Proof-of-Concept experiments, Market analysis, Business plan, Business/Go-to-market Strategy, Regulatory Affairs, Investments and funding, company pitching


Read more and sign up here
Contact Nadia Storm for further information