Health, disease, and lifestyle in the past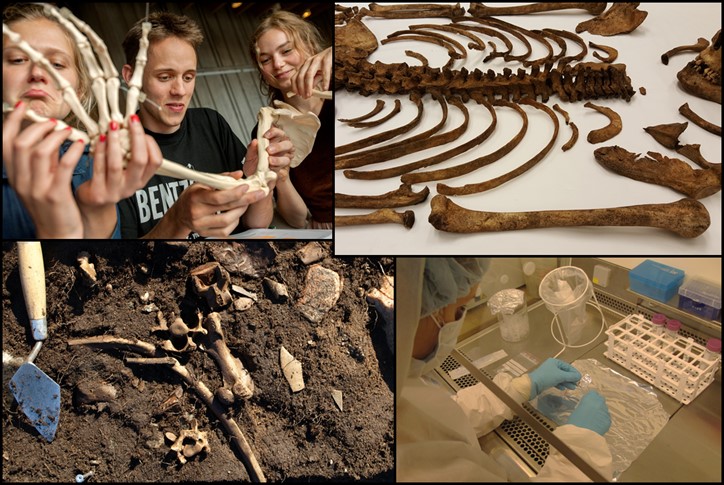 The course is cancelled in 2021.
This two-week course is about what we can learn from examining archaeological human and animal skeletal remains in order to reconstruct the lives of people who lived in the past.  It will provide students with a broad but detailed introduction to scientific methods and theories in osteoarchaeology to answer questions about health, disease, and lifestyle in the past. The scientific investigation of human skeletal remains gives unique insights into human history, demographic shifts, environmental changes, living conditions, migrations, pathologies, and the spread of diseases, as these all leave traces on the skeleton. Animal remains provide evidence on human food sources, activities, and the environment and climate in the past.
Population density and migrations have had an impact on spread of vira, bacteria, and parasites through thousands of years. Applying biomolecular methods such as ancient DNA, pathogens, paleoproteomics and isotope analysis allows us to better understand the development of diseases and health at the individual and the population level.
| | |
| --- | --- |
| On-campus module | 5 - 16 July 2021 |
| Exam |  16 July 2021 |
Credit points: 10 ECTS

The course goals target a broad group of MSc among others:
Archaeology
Biology
Bioscience
Geology
History
Medicine
Public Health
Social Anthropology
Veterinary Medicine
Course participants must have completed at least three years of university studies.
The application deadline was 1 April 23:59 2021 (CEST). 
We do not accept late applications.
You are exempted from payment, if:
You are enrolled at a Danish university and the course is part of your master's programme. Danish students must provide a pre-approval of credit transfer from their home institution upon application.
You are a student at UCPH enrolled in one of the following programmes, you do not need to apply for pre-approval of credit transfer:
MSc in Public Health Science
MSc in Global Health
MSc in Health Science
MSc in Medicine and Technology/Biomedical Engineering
You are an exchange student and attend the course as part of the autumn exchange semester (min. 3 months stay).
You are an exchange student nominated through Nordplus express or Nordlys.
Fee-paying participants:
All other participants (students, working professionals, etc.) must pay tuition fee according to the information below.
| | |
| --- | --- |
| EU/EEA citizens | 8,000 DKK |
| Non-EU/EEA citizens | 12,500 DKK |
The fee covers participation in the course. It does not cover course materials, travel, accommodation and living expenses during the course.
Full payment of course fees must be transferred in May. Payment details will be provided upon acceptance.
Refund policy
You can only get a refund of your tuition fee, if you cancel at least two month prior to the beginning of the course including e-learning modules.
Regrettably, the University of Copenhagen does not offer any scholarships or tuition fee reductions.
Currently, we hope to carry out the course as planned.
If the situation prevent us from hosting the course as planned, the course will  will be cancelled, as it requires hands on exercises and group activities. 
If you have questions about the course content, please write to Healthandlifestyle@sund.ku.dk
Course responsible: Anne Birgitte Gotfredsen, Luise Ørsted Brandt, and Marie Louise Schjellerup Jørkov
Course administration: Trine Bottos Olsen
Accommodation: Please note that the summer courses are non-residential. Participants are responsible for finding and funding accommodation during their stay in Copenhagen.
You can use different online portals to search for accommodation, such as:
Copenhagen has an international airport, and the city centre can be reached within 30 minutes. If you want additional information read Arriving in Copenhagen.
Please study our websites for more information about Faculty of Health and Medical Sciences and the University of Copenhagen.
You can find many answers to frequently asked questions about the faculty's summer courses, such as:
deadlines
tuition fee payments
visa
arrival and departure
certificates
If you need specific academic information about the individual courses, you must contact the relevant course responsible directly.