Health professionals and citizens in dialogue about healthy aging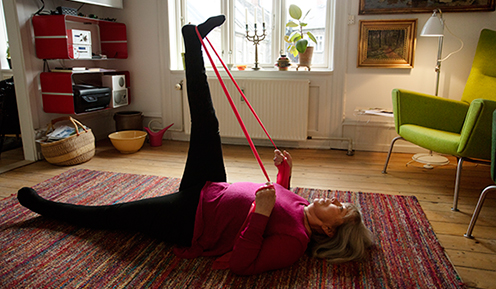 The Center for Healthy Aging demonstrates how the elderly themselves can do much to delay or even completely avoid a variety of age-related diseases such as dementia. 
The centre regards actively communicating their research findings as a key task - this may be through the Danish or international media, on social media, at lectures, public meetings and through close cooperation with a wide number of organisations that work to promote active and healthy aging. 
Exercising for a healthier brain prevents dementia
Associate Professor Ellen Garde is a keen promoter of the research done at the Center for Healthy Aging. She engages in dialogue with citizens across the whole country to try and curb the onset of dementia.   
In her so-called LISA-study, she uses extremely detailed MRI scans to examine how active lifestyles and disease can affect the brain's network and functions. The study is based on 450 Danes involved in a programme that includes training with elastic resistance bands at home and a programme of training at a fitness centre.  
The studies focus on processes that can strengthen the brain and prevent neurological disorders in the elderly. The results achieved are used to make recommendations in the ongoing dialogue with citizens about preventing disease.
"It's all about challenging your brain. We must be physically active and preferably in the company of other people. It is vital to get up off of the couch and strengthen your social network with physical and mental experiences. The brain thrives when we discuss and make choices, especially if the heart is beating a little faster at the same time", says Ellen Garde, Associate Professor at the Centre for Healthy Aging.