EIT Health Summer School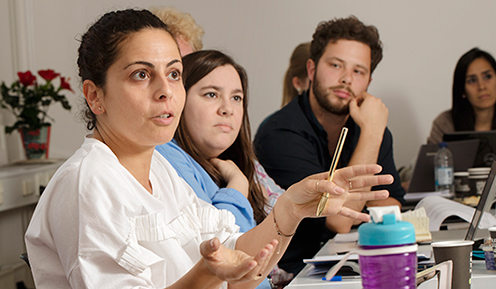 Every August, the University of Copenhagen and EIT Health gather students together from around the world for a course in interdisciplinary innovation and entrepreneurship.
Together with a number of companies, the students have to devise solutions to specific challenges posed by businesses and public stakeholders. 
The course provides students with practical experience in the innovation process and sparks many dreams of a career as an entrepreneur.
"Innovation and entrepreneurship contribute to the whole society and are an essential source of growth. The course is vocational and adds to the skills of the students by showing them a professional approach to health innovation. It means that they are already one step ahead when they finish their studies", says professor Claus Bøttcher Jørgensen from the EIT Health Summer School. 
In 2016, the summer school decided to focus on technology that would make life easier for the elderly. Consequently, students were tasked with solving actual tasks for Steno Diabetes Centre and DigiRehab, who wanted to have fresh input to their work with diabetes and the rehabilitation of the elderly. 
Prior to the summer school start, the students took a course on the e-learning platform, Coursera and during this course, the students were trained by researchers from SUND.
In 2016, the team that delivered the best product was one that created an nutritional guidance app called  PlenTY, which can be used by people with type 2 diabetes. 
Based on dietary advice that Steno Diabetes Centre gives to diabetes patients, the team created a user-friendly app that focuses on dietary recommendations to prevent cancer and cardiovascular disease. The app will make it easier for health-care professionals and patients themselves to maintain good eating habits.
"What I enjoyed the most was the international environment of both participants and staff. We were all encouraged to share our personal experiences and put them all together, to finally build a fantastic idea to benefit the elderly population" - Grace Amijos Bravo fra Ecuador.