From idea to company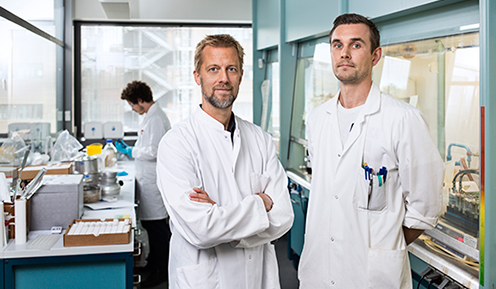 In 1999, Kristian Strømgaard was a talented young Ph.D. student. Today, the combination of a great idea from his university research and a strong entrepreneurial drive have led to a spin-out company with high ambitions. 
The company, Avilex Pharma was founded in 2012 by Professor Kristian Strømgaard and Assistant Professor Anders Bach. At the moment, the plan is to start phase 1 trials in 2017 of AVLX-144, a drug for the treatment of strokes. 
"The path we have taken has certainly not been unproblematic. The first six months after starting up Avilex Pharma, the results were so mixed that there was no prospect of further financial support to enable us to continue", says Kristian Strømgaard.
Nevertheless, Kristian Strømgaard did not give up. He had a strong faith in the potential of the drug, AVLX-144, to treat apoplectic strokes and he was not ready to drop it without a fight. In 2015, he was finally granted just under DKK 30 million to reach the goal of preparing the drug for clinical trials.   
Today, the company has also developed methods that have great potential to treat neurological diseases such as anxiety and epilepsy.  
In 2015, medicine was Denmark's largest export and passed the DKK 85.7bn mark, which is 13.5% of Denmark's total export goods. Medicine exports have doubled since 2007 and are expected to double in size again before 2020.