A research environment of top international standard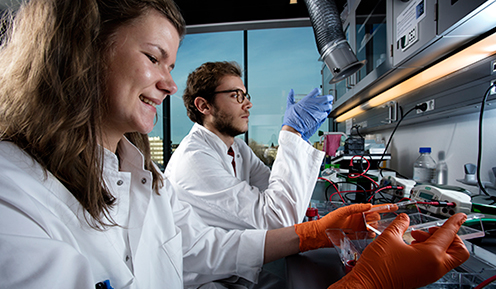 Since 2003, the Biotech Research and Innovation Centre (BRIC) has achieved landmark results in understanding the causes of diseases.
The research centre focuses on the field of cancer research, but has also established a strong profile in research on diseases such as Parkinson's, Alzheimer's and multiple sclerosis.
The results have made BRIC a beacon of international research. In 2015, an independent assessment panel wrote the following review:
"The Committee believes that BRIC is the jewel in the crown at the University of Copenhagen. The Centre's research, scientific publications and their impact have led to the establishment of BRIC's unique research environment as among the best centres in Europe".
From the beginning, BRIC has had a clear mission to conduct research at top international level, recruit and train new researchers, and to ensure that research findings are utilized and commercialized. One outcome has been the founding of the biotech company, EpiTherapeutics, which was sold to the American company, Gilead for almost half a billion Danish kroner in 2015.
"The crucial factor in BRIC's success is a clear vision of our goals and a strong working culture where talented colleagues have the conditions that are necessary to carry out their research successfully. At the same time, our scientists have been adept at attracting many grants from various foundations in Denmark and abroad, including 6 ERC grants", says director of BRIC and professor Kristian Helin.
The centre consists of 250 employees in 23 multidisciplinary research groups, researching the molecular mechanisms of disease.